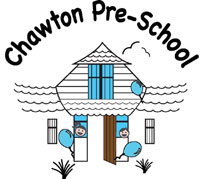 Chawton Pre-School is set in the heart of Jane Austen's idyllic village, Chawton. The school is based in its picturesque oak-beamed village hall. From this location, we make good use of the village's facilities including cricket pitch, sports field, play-ground and Chawton House itself, as well as the numerous wooded areas and foot paths that surround this historic and beautiful village.
The hall also makes for an exceptional pre-school classroom with its own private garden which is used daily, whatever the weather. Our motivated and experienced staff make for a very happy and friendly environment for our children. Chawton Pre-School is a charitable organisation, which is supported by a parent committee who help with the administration of the school, as well as the many fundraising events we hold throughout the year.
We are a term time pre-school, open for 38 weeks a year. Our opening times are Monday, Tuesday 9.00-3.00pm, Wednesday 12.00-3.00pm & Friday 9.00-1.00pm. We accept Early Years Funding for 2, 3 & 4-year-old children and currently charge £5 per hour for unfunded hours.
Chawton Pre-School follow the government's Early Years Foundation Stage with its 7 areas of learning and its 4 overarching principles.
A Unique Child – Every child is a unique child who is constantly learning and can be resilient, capable, confident and self-assured.
Positive Relationships – Children learn to be strong and independent through positive relationships.
An enabling environment – Children learn and develop well in enabling environments, in which their experiences respond to their individual needs and there is a strong partnership between practitioners, parents and carers.
Learning and Development – Children develop and learn in different ways and at different rates. The framework covers the education and care of all children in early years' provision including children with special educational needs and disabilities.
Contact us – If you would like to come and have a look around our pre-school please contact Karen on 07552155236 or email us at: chawtonpreschool@gmail.com