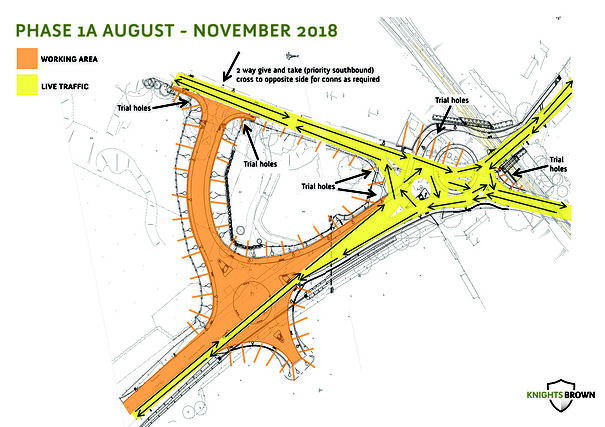 Following our start on site, we have now successfully completed our site establishment work, including demolition of the derelict farmhouse and outbuildings, and are now constructing the link road that will join Selborne Road and Winchester Road.
On Tuesday 7 August 2018, we will be beginning work on Selborne Road to construct the first (southern) roundabout and connect in the new link road with Selborne Road and Winchester Road.
To do this we will be installing traffic management measures on Selborne Road on Monday 6 August, which will ensure we provide a safe working area for our operatives undertaking the work.
From Tuesday 7 August, the northbound, inside lane, of Selborne Road (towards Alton) will be closed and both the A31 slip road traffic and northbound Selborne Road traffic, will merge into one lane.
This phase of the works is scheduled to continue until November 2018. During this time, two-way (single lane) traffic will be maintained.
The traffic management arrangements will be installed by our specialist traffic management company, Forest Support Services; notices displaying a 24-hour emergency number will be erected.
We will be doing all we can to keep disruption to a minimum, however, should you have any issues, please get in touch using the website contact form, by email at buttsbridge@knightsbrown.co.uk or tweet us @buttsbridge